Is the Russian Economy Really Suffering?
According to conventional wisdom, the Russian economy is suffering – and has been for quite some time. Some observers attribute it to Western sanctions. Others blame "the state's excessive interference in the economy" and reluctance to conduct real reforms. True, Russia's economy has long stagnated, and its GDP per capita in current dollar terms had fallen below 2008 levels even before the COVID-19 pandemic. But there is one catch: Russia's stagnation is far from unique, and other major European economies are not doing much better. And no, that is not because of distortions caused by the pandemic.
According to World Bank data, Russia's GDP per capita in current U.S. dollars stood at $11,498 in 2019, down around 1.2% from $11,635 in 2008 (Figure 1). France, on the other hand, suffered a 10.5% drop in GDP per capita during the same period, and the United Kingdom – 9.4%. Germany was the only one among the top three European economies to make gains on this indicator, but not by much. Its 2019 GDP per capita of $46,795 was only 3% higher than its 2008 figure of $45,427, and even that modicum of growth was erased once the pandemic hit (Figure 2). In other words, as far as its citizens' current-dollar incomes were concerned, Russia's economic growth figures were not at all terrible during the twelve years preceding the pandemic, even by Western European standards. Even more notably, if one juxtaposes Russia's recent growth curve with that of, say, Canada, the dynamics are largely identical (Figure 3). And that was despite the sharp depreciation of the ruble and fluctuations in energy prices.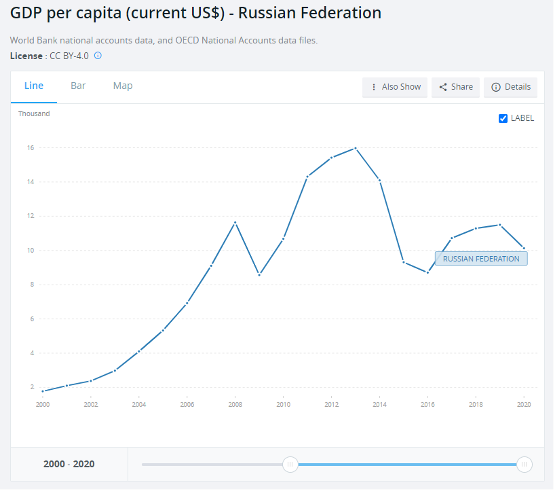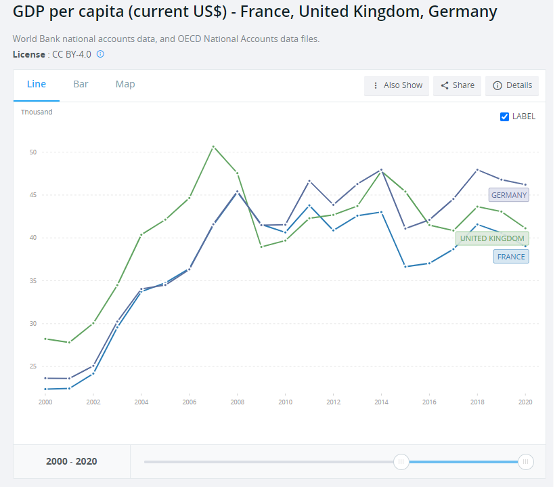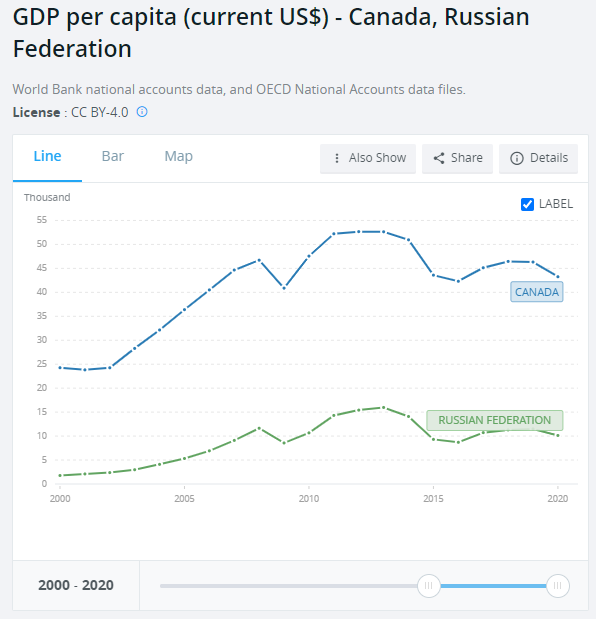 The figures in purchasing power parity (PPP) terms tell pretty much the same story: there is no significant growth gap in GDP per capita between Russia and the leading economies of the West. In fact, between 2008 and 2019, Russia (Figure 4) did better on this particular indicator than all of the abovementioned Western economies except Germany (Figure 5), whose 48.9% growth rate was only slightly higher than Russia's 44.8%. Even the U.S. economy appeared sluggish against Russia's dynamic growth thus measured. Whereas Russians gained 44.8% in purchasing power during the examined period, Americans gained only 34.9%.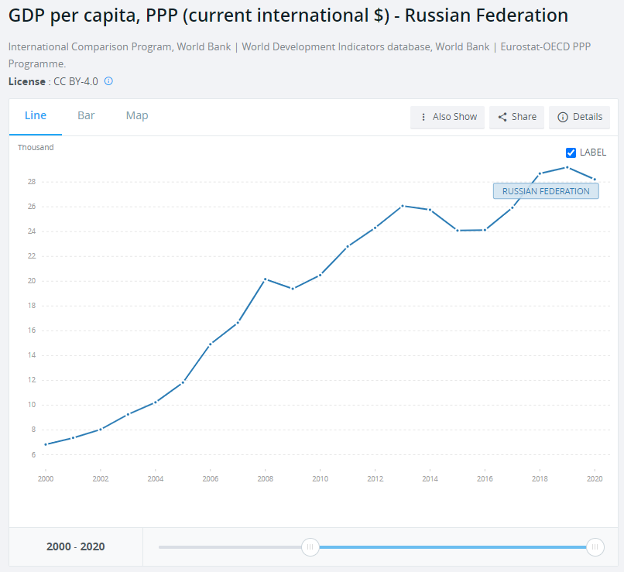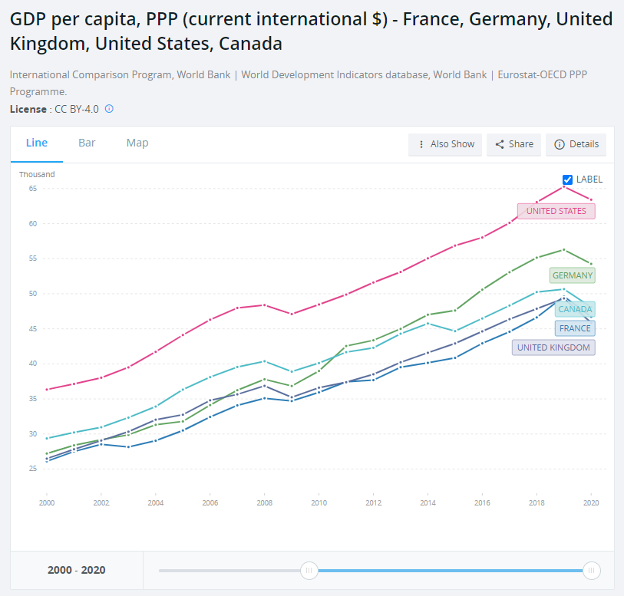 Did the relatively high energy prices prior to 2014 inflate Russia's growth figures? Probably. But even during the period from 2014 to 2019, Russia's GDP per capita (PPP) nevertheless made a gain of 13.3%, higher than Canada's 10.7%. This means that from Russia's perspective, being a target of U.S. sanctions has been more economically rewarding than being the United States' largest free-trade neighbor. No wonder the sanctions imposed so far have done so little to change the Kremlin's behavior.
Indeed, based on these figures, it also would not be strange for the Russian leadership to admire China's growth model more than that of the West, or at least have the desire to jump onto China's economic bandwagon. From 2008 to 2019, China's per capita GDP grew by 120% in PPP terms, more than three times the amount by which the United States grew according to the same indicator. Had Russia grown at the same rate China did during the same period, it would have had a per capita GDP that was close to 90% that of France or the UK on the eve of the pandemic. That, of course, was not the case – not because the Russian economy could not grow as fast as European ones, but rather due to the opposite: in terms of its growth dynamics, Russia has been an extraordinarily normal European country, its economy growing in anemic lockstep with the largest European economies.
Of course, there are deeper vulnerabilities in Russia's economy that GDP figures cannot reflect, and Russia's GDP per capita, while displaying normal growth dynamics, is still much lower in absolute terms. Yet the simple comparison of growth numbers yields an important conclusion: Washington should refrain from underestimating Russia's economy and at the same time adopt more modest expectations regarding the impact of economic sanctions, which so far have had so little impact on Russia's per capita growth figures that they have remained reliably above Canadian levels.
During a White House press briefing on February 11, National Security Advisor Jake Sullivan was asked to comment on the Russia-China joint declaration released during Putin's visit to Beijing a week earlier. From the White House podium, he declared, "The United States, under the Biden administration, has confidence in us and in the West. We are 50 percent-plus of global GDP. China and Russia are less than 20 percent. We have innovation. We have entrepreneurship. We have freedom." According to Mr. Sullivan, China could not possibly "compensate Russia for [its] economic losses" if the collective West were to move ahead with sanctions. What he neglected to mention, however, is that most major Western economies, with all their innovation, entrepreneurship, and freedom, have been just as stagnant as the Russian economy in per capita terms. As China continues to outgrow both Russia and the West, the United States included, it is far from certain which way the global economic balance of power will tilt.
Prepared by Yanliang Pan, February 15, 2022.
References
Åslund, Anders. "The Russian Economy in Health, Oil, and Economic Crisis." Atlantic Council. May 27, 2020, https://www.atlanticcouncil.org/commentary/long-take/the-russian-economy-in-health-oil-and-economic-crisis/.
Kolesnikov, Andrei, and Denis Volkov. "The Coming Deluge: Russia's Looming Lost Decade of Unpaid Bills and Economic Stagnation." Carnegie Moscow Center. November 24, 2021. https://carnegiemoscow.org/2021/11/24/coming-deluge-russia-s-looming-lost-decade-of-unpaid-bills-and-economic-stagnation-pub-85852.
"Under Secretary Nuland Discusses the Russia-Ukraine Situation With European Thought Leaders." U.S. Department of State. December 16, 2021. https://www.state.gov/under-secretary-nulands-discussion-with-european-thought-leaders/.
"Press Briefing by Press Secretary Jen Psaki and National Security Advisor Jake Sullivan, February 11, 2022." The White House. February 11, 2022. https://www.whitehouse.gov/briefing-room/press-briefings/2022/02/11/press-briefing-by-press-secretary-jen-psaki-and-national-security-advisor-jake-sullivan-february-11-2022/.