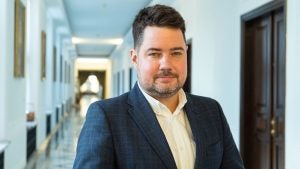 CERES introduces you to our visiting researcher, Dr. Bartosz M. Rydlinski. He was a visiting scholar at CERES in 2014, and we welcome him back this spring!
Dr. Rydlinski is an assistant professor at Cardinal Stefan Wyszynski University in Warsaw, member of the "Amicus Europae" Foundation council, established by former Polish President Aleksander Kwasniewski. He is a former EASI-Hurford Next Generation Fellow at the Carnegie Endowment for International Peace.
Dr. Rydlinski is a member of:
– Younger Generation Leaders Network on Euro-Atlantic Security (YGLN) affiliated with the European Leadership Network
– Fresh Look at Eastern European Trends (FLEET) established by Friedrich-Ebert-Stiftung (FES) Regional Office for International Cooperation Cooperation & Peace
– Next Left Focus Group of the Foundation for European Progressive Studies (FEPS)
– Polish Teachers' Union (ZNP)
He is co-founder of the Polish social democratic think tank Ignacy Daszynski Centre. In 2022, he was a candidate of the Left Parliamentary Fraction in the election process for Collegium of the Institute of National Remembrance.
Dr. Rydlinski has participated in guest lectures and presented his research in the United States, Germany, Italy, Romania, Austria, Hungary, Czech Republic, Belgium, Finland, Malta, North Macedonia, Ukraine, Russia, Belarus and Serbia. His research interests include social democracy, right-wing populist parties in Central Europe, politics of memory and think tanks.
At Georgetown, Dr. Rydlinski has generously shared his valuable insights into East European affairs with the community. His talk on Poland's and the EU's response to Russian aggression in Ukraine can be watched on our YouTube Channel: Enough is Enough! Poland and the EU respond to Russian aggression in Ukraine.