CERES is excited to introduce our new Chair of Romanian Studies, Diana Dumitru!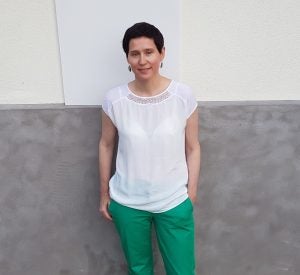 Diana Dumitru's field of research includes the Holocaust in Eastern Europe, nationalism, and Jews under late Stalinism. Dr. Dumitru has held multiple fellowships that include a Woodrow Wilson Center's Fellowship (USA), Gerda Henkel Stiftung Fellowship (Germany), Simone Wiesenthal Institute Visiting Researcher (Austria), and the Rosenzweig Family Fellowship for research at the US Holocaust Memorial Museum (USA). She has authored over forty academic articles and two books. Her second book, The State, Antisemitism and Collaboration in the Holocaust: The Borderlands of Romania and the Soviet Union, was published by Cambridge University Press in 2016. Together with Chad Bryant and Kateřina Čapková, she is currently working on a book titled "The Trial that Shook the World: The Slánský Process and the Dynamics of Czechoslovak Communism." She is also writing a separate book focused on Jewish life in the Soviet Union after World War II. Dr. Dumitru is an editorial board member of the scholarly journals Holocaust and Genocide Studies, East European Jewish Affairs, and Journal of Genocide Research. She is a member of the Advisory Board of the EU-funded European Holocaust Research Infrastructure.
Please tell us a little about your background:
I grew up in Moldova, which was then part of the Soviet Union. As part of a Romanian-speaking family, I experienced being both a minority within the enormous Soviet state where Russian culture was dominant, as well as being a majority within the tiny (and mostly unknown) independent country of Moldova after 1991. As many other people from Eastern Europe, I have witnessed tremendous changes that swept the region over the past thirty years. To an extent, I have been part of that change. In many ways, being a historian in a post-Soviet state has been exciting: we have seen an "archival revolution" with unprecedented new access to materials allowing us to understand the past better than ever before; but it also has been frustrating and disillusioning, given the newly (re)discovered nationalism within Moldovan society and the pressure this has placed on historians and politicians to pursue certain agendas while ignoring others, frequently leading to self-censorship. My research has dealt primarily with the history of Jews in this region, a group that has been persecuted and victimized and remains discriminated against to this day. In Moldova, despite the capital city having been almost 50 percent Jewish until 1941, when they were systematically annihilated in one of the 20th Century's most barbaric acts, the history of local Jews has never appeared on the agenda of Moldova's historians. For more than a decade now, I have been trying to bring the story of Moldova's Jews to light, hoping this could help Moldovans and other groups understand how this history can help us better understand Moldova, Eastern Europe, nationalism, betrayal, collaboration, inter-ethnic peace, and, ultimately, to better understand humanity.
What will you be teaching during the 2022-2023 academic year? (And please tell us about these courses and why students should sign up)
I will teach (i) Memory Wars in Ukraine, Russia, and Eastern Europe, (ii) The Holocaust in Eastern Europe, (iii) Gender and Genocide in the 20th Century and Beyond, and (iv) Fascism and Its Legacy in Eastern Europe. These courses are critical for understanding the perils and conflicts that suffuse the contemporary world. Discussing genocidal crimes, the Holocaust, antisemitism, and Nazi ideology, among many other topics, are conducive to understanding relevant parallels in the contemporary world, and represent bridges to review our own current attitudes toward diverse types of minorities, the damages that a state, political party or dominant culture can inflict upon various groups that have been labeled as hostile, unwanted, backward or abnormal, and how slippery the concept of "progress" can be throughout history. Crucially, students will have a chance to develop an understanding of how history can be weaponized with direct and lethal outcomes in the contemporary world. The course material will help students reflect on issues of intolerance, prejudice and biases we hold, as well as the danger of social engineering even (or especially) when such projects are done in the name of progress.
What are you looking forward to in teaching and being part of the Georgetown community?
I am most looking forward to discussions with students and faculty, in class, during office hours, and around the department, for an opportunity to share topics of history that carry such direct weight on how we understand the world around us today. I am excited to be able to work and interact with the student body and to have a diverse group from a variety of disciplines – I normally thrive in these kinds of environments and find it highly inspirational for my own work. Finally, I love Georgetown's architectural beauty, and I delight in knowing I'll be able to enjoy it on a daily basis.