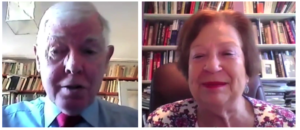 On Tuesday May 5, 2020, Visiting Ion Rațiu Professor of Romanian Studies Dennis Deletant delivered a farewell lecture to the CERES community. Professor Deletant's virtual address, titled "The Saliency of the Past: Some Thoughts on the Case of Romania," covered an extensive range of topics. Professor Deletant's remarks began with a reflection on the numerous courses he taught at Georgetown during his nine years with CERES. They then shifted to focus on ways that Romanian history remains relevant to its present, with particular attention given to the union of Transylvania with Romania and the subsequent relationship between Romanians and Hungarians in the region. Following his remarks, Professor Deletant engaged with a variety of questions from the audience on a number of topics relating to Romanian history and current issues in Romanian politics and foreign relations.
CERES is very grateful for Professor Deletant's time at Georgetown, and wishes him well in his forthcoming endeavors. We also deeply appreciate the generosity of the Rațiu Family Foundation, which provides the endowment for the Ion Rațiu Chair of Romanian Studies.
To watch this farewell lecture on our YouTube channel, use this link.  Please note:  due to connectivity issues in the streaming of this talk, the quality of the video was affected.